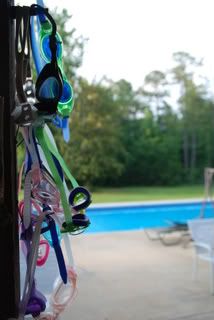 This picture pretty much sums up our weekend. (Is that a lot of goggles or what?) It was basically a four-day swimming and eating binge. Starting on Friday afternoon, we spent four days going to my parents' house at 4-5 in the afternoon and not leaving until between 8 and 9 at night. Of course, we somehow managed to get a meal out of my mom each of those nights . . . and when I say "we," I mean me, David and the kids as well as my brother, his wife, and their four kids! Yes, mom finally announced last night that Cafe Mom is closed for awhile. ;) What a great time the kids had, though . . . swimming in the rain, swimming in the dark, eating watermelon in the backyard, eating popsicles in the pool . . . they were in summertime heaven!
On Saturday we managed to squeeze in another activity before swim-time. We took the kids to a place near hear called
Westville
. It's basically a town preserved and frozen in time from the 1850's. There was a re-enactment of a Creek Indian war at one point - here are Joshua and Ethan with a few of the "soldiers:"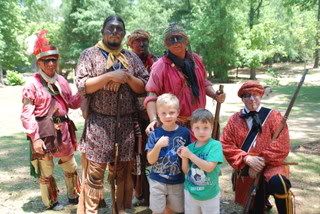 The kids got to help make candles in a big cauldron of hot wax (does anyone else think that sounds like an insane thing for ME to let MY kids do after the recent Tylenol and dresser incidents?!), watch someone operate a giant pedal-operated loom, see a blacksmith work, and see a meal cooked over an open fire in the kitchen of one of the old houses. Here are the oldest three on the judge's bench in the old courthouse (Lauren's actually up there, too; you just can't see her):
Tired Ethan riding on Uncle Dan's shoulders:
This woman showed us the Singer House and told us about life back in the day: