I was going to note that you should be impressed by two posts in one day, but when I uploaded these pics just now, I discovered it's actually Saturday. It's 1:13 am, and here is what I have been doing for the past 3 hours: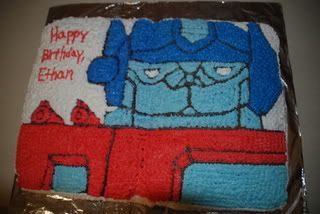 For those of you without 4 and 5 year old boys, that is Optimus Prime, leader of the Autobots (the good Transformers) . . . or at least it's the best likeness I, whose artistic skills are already surpassed by my 5 year old, can create. I'm no Martha Stewart, but Ethan will like it. I decided to take a picture of it tonight because, if you look closely, you can see where the two cakes are sort of sloped toward each other in the middle. In the event that it collapses on itself, I wanted evidence of what it looked like before I went to bed! It's become my tradition to bake my kids' birthday cakes while they're awake (so they can "help"), but then to decorate them after they go to bed. Makes it fun to "reveal" it when they get up in the morning.
Since I'm on the computer at this ungoldy hour anyway, here are the promised pictures from the slip-n-slide this afternoon. We just bought it (for $7) yesterday, and they LOVE it. For days when we can't make it to mom's for the pool, it will suffice. Of course, Lauren wasn't interested in actually getting on the slippery part, but she did like playing with the water and even let her face get pretty wet.