Not sure how I went almost a whole week without posting. Sorry about that! You'll see why below. I'll start my thankful list with pics:
We had an awesome vbs week at church. Though exhausted, my kids loved, loved, loved it. Josh, Ethan, and Lese were all in different classes, which I think really helped them come out of their shells a bit. (Not that Ethan needed any shell-departing!) Lauren was in the nursery this year but still got to make some cute little crafts, which she loves.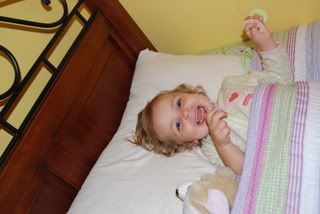 We've finally made a successful switch to the "big girl bed!" We moved her almost a week ago, but it's been slow-going. After very little protesting the first night, she has gone to bed just fine every night with no crying at all. Also naps just fine in it. However, she got into an ugly little habit of waking around 3-4 am each night and coming into our room. I was so tired from vbs and from being sick with a cold that I gave in and let her into our bed after the 3rd or 4th visit each night. Finally on Wed night, I'd had all I could take and decided to "nip it in the bud!" (Totally acknowledging that it was my own fault for giving in the previous nights, thereby teaching her that her persistance would pay off.) So, Wednesday night between the hours of 4 and 6 am, guess how many times we had to take Lauren back to her bed? SEVENTEEN!! Yes, 17 times. I guess tenacity is a good quality, right? However, the reason this is on my "thankful" list today is because after taking her back to her bed 17 times Wed night, guess how many times she got up last night? ONE!!! She got up crying at around 11pm, David took her back to her bed, and she slept without waking until 7:45 this morning. :)
The boys have been "playing" Lord of the Rings Risk for over an hour. The funniest thing is they really think they're playing! They are having such a great time as they have been waiting weeks to get to look at this game. They noticed in the game closet a few weeks ago and asked if they could play it. I explained that it is an adult game and that they were not old enough to play it. So, of course, next question: "Can we just look at at?" I told them that they could take it down and look at it sometime when Lauren was napping, but we've been forgetting every day since then. So, today they remembered, and wow, are they having a blast. They keep telling me to come see how many territories they've conquered, how many orcs are dead (no, they've never seen the movie - they only know it's an orc because I told them.), and how far the dice went when they rolled them. I will have to remember to try this again sometime!
I'm definitely thankful for more than three things this week, but alas, said sleeping daughter has awakened, and I promised the kids some slip-n-slide time this afternoon. Pics to follow, I'm sure. :)